Food Safety and Hygiene
Can you Reheat Pork?
You've cooked a delicious pork dish, and now you're looking at the leftovers. You can retake it for your next meal. Just reheat and take some of your favourite sauce to eat. However, there are a few things to keep in mind.
First, reheating pork that has been cooked properly will result in juicy, flavorful meat. The improperly cooked dish can lead to dry, tough meat.
Read this blog to know your most desired question, "Can you Reheat Pork", along with the safety and hygiene issues.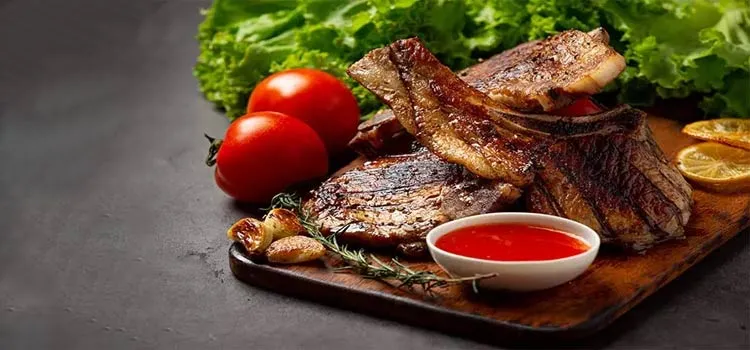 Can you Reheat the pork?
It's a common question: can you reheat pork? The answer is yes. Reheating pork is an easy way to enjoy leftovers from your favourite meals. The only thing that needs to be remembered is the proper storage of the pieces. Do not leave them at room temperature for more than two hours to keep them safe to eat later. Instead, store the leftovers in the fridge immediately. That way, the meat can last for three to four days. Within this time, reheat the meat and enjoy it.

Accredited Courses
Tutor Support Included
3 Installment Plan at checkout
14 Days Money Back Guarantee
Follow some simple tips, and have a delicious, safe meal.
When reheating, use low heat, cook slowly, and add some liquid (water, broth, etc.) to the pan. It preserves the moisture in the meat and prevents drying out.
According to the USDA (Food Safety and Inspection Service ), you should reheat pork to an internal temperature of 165° degrees Fahrenheit, then let the pork rest for three minutes before eating.
Use a food thermometer to check the internal temperature of your pork before eating it.
If you're reheating pork cooked in a sauce or gravy, bring the sauce or gravy to a boil before adding the pork back in. It helps kill any harmful bacteria that may have been present in the raw meat.
Subscribe Now and Get Free Access to Over 700 Courses at Just £99/Year. That's Less Than £2 Per Week & Less Than £1 Per Course
When reheating pork, you need to defrost it first, not frozen meat.
Reheat pork in a covered dish in the oven, microwave, or pan/skillet.

Oven: Preheat to 350 degrees Fahrenheit. Add some water or broth to an oven-safe pan. Place the leftover pork in the pan and then cover with aluminium foil and reheat for 15 to 20 minutes (this is dependent on the size).
Microwave: Take a microwave-safe plate to put a layer of previously cooked pork chops. Use a damp paper towel to cover the dish on the plate. Put the plate into the microwave to heat it for nearly 30-second increments on a 50% power setting.
Pan/Skillet: Heat a skillet/pan on a low-medium flame on the stovetop. Add some butter or oil as the pan heats up. You can add the pork piece once the skillet/pan is heated. You can add some broth or liquid. Heat for 3 minutes on one side, then flip and wait 3 minutes on another.

Add a little moisture to your pork when reheating it by covering it with foil or adding a little water or broth.
Food Safety and Hygiene Rules for Reheating Pork
When it comes to food safety, there are some things you just don't want to mess with. For example, reheating pork is one of them.
Pork is a type of meat that's highly susceptible to bacteria and other contaminants. If not cooked properly, it can cause severe illness or even death. Following some fundamental food safety and hygiene rules when reheating pork is essential. Following these food safety tips, you can enjoy your reheated pork without worrying.
Confirm that the pork is cooked all the way through before reheating.
The internal temperature should be at least 165° degrees Fahrenheit and use a meat thermometer to check for doneness.
Then, cut the pork into small pieces before reheating; this will help it cook evenly and prevent drying out.
Reheat the pork in a sauce or gravy to help keep it moist.
Avoid reheating pork more than once. Reheated pork can be even more susceptible to bacteria.
Use caution when reheating pork in the microwave. Microwaves can unevenly cook meat, which can lead to food poisoning.
How to Defrost Pork Safely?
Defrosting pork is essential for any to reheat any food. Now you know how to defrost pork safely.
Fridge: The safest way is to defrost it in the refrigerator overnight. This method takes longer, but it ensures that the pork will be thawed evenly and won't reach a high enough temperature to allow bacteria to grow.
Cold Water: You can also defrost pork in cold water if you're in a hurry. Make sure to change the water every 30 minutes to avoid bacterial growth. Cook immediately after it's thawed.
Food Safety at Home, Shopping, Street and Restaurant
Are you looking to begin your career or want to gain more advanced skills? Then this course will help you get one step closer to your professional aspirations and develop your skills and knowledge for a rewarding career.
How Many Times Can You Reheat Pork?
Like most people, you probably don't think twice about reheating pork. Whatever method you use, never reheat pork more than once. After all, it's just meat, right? But did you know pork is one of the most dangerous meats to reheat? That's because pork contains a lot of bacteria that can cause food poisoning. Unfortunately, eating meat can cause bacteria to grow, so it's best to cook it fresh.
Is it Safe to Reheat Pork?
Pork is a versatile meat that can be cooked in many different ways. Whether you roast, fry, or bake, pork is a delicious addition to any meal. However, you may be wondering whether it's safe to reheat pork for once.
When meat is cooked, its proteins start to change. Reheating meat can cause those proteins to change even further, making them challenging and difficult to digest. Additionally, reheating meat can also kill off any remaining bacteria present. So if you're going to reheat pork, it's essential to do so carefully. Following these rules, you can safely reheat cooked pork without compromising its taste.
Ensure that the pork is cooked through before attempting to reheat it. There's no need to overcook the pork, but you want to make sure it's not pink in the middle.
When reheating the pork, do so slowly and at a low temperature. Then, reheating meat too quickly can cause it to dry out, making it even tougher to eat. And if you're reheating pork in the microwave, use the "defrost" setting rather than the "cook" setting.
Top Courses of this Category
Conclusion
So, now you know everything about reheating pork. Do it properly to avoid food safety issues. Reheat pork slowly and at a low temperature, ensuring that it reaches an internal temperature of 165°Fahrenheit. Reheated pork, take some salad or sauce to make it more impressive. So go ahead and enjoy your leftovers!